Exchanging bitcoin for other cryptocurrencies or fiat currency in Nigeria isn't as complicated as it may seem, however, different crypto wallets and apps have different operational methods, which means that you have to be familiar with whichever platform you want to exchange your bitcoin with.
However, in this article, we will be focusing on how to exchange bitcoin for other cryptocurrencies or fiat currency in Nigeria using Binance, because it is the world's most used and acceptable crypt trading and exchange wallet.
Although in Feb. 2021, the CBN governor warned financial institutions to stop facilitating crypto-related transactions, which made things a little bit difficult for cryptocurrency transactions to be carried out.
However, in this article, I will be showing you some of the ways to avoid this, and below are some of the methods you can use to convert your cryptocurrency into naira.
Direct trade.
Exchange trade.
Peer to Peer trade
 Direct Trade
The most popular method of trading bitcoin is selling it online. It is quick and secure, albeit the trading platform you used can charge you a small fee.
You may sell your cryptocurrency securely on bitcoin exchanges in Nigeria, especially peer-to-peer services like Remiatno, Paxful, LocalBitcoins, and Quidax.
Potential purchasers who desire a coin in exchange will contact you after you open a deal.
To access the services offered by these websites, you must register as a seller or buyer. You must verify your identity before registering, and on localbitcoins.com, you may learn how to purchase or sell bitcoin. Registration is quick and easy.
The website will notify you when a buyer requests to trade with you after you submit an offer stating that you wish to sell after registering. The buyer is your next point of contact, but you finalize the trade using the website.
Read also: How to Invest in Bitcoin
Using Exchange Platforms
Registering with an online exchange is an additional strategy. Exchanges serve as a holding company for everyone's money.
In the same way that you would place a purchase order, you put a "sell order," specifying the volume (amount), type of currency (such as bitcoin), and price per unit you desire to sell for.
The exchange will complete the transaction as soon as a matching buy order is placed. After that, your account will be credited with the currency.
Per-to-peer or One on one Transaction
Individual meetings between buyers and sellers are an additional method of bitcoin trading. This is easily accomplished by collecting cash in hand and scanning a QR code with another person's phone.
While employing this technique, make sure to carry out the exchange in a secure location and verify the price for a few seconds before completing the transaction. The cost of bitcoin fluctuates.
How to Exchange Bitcoin to other Cryptocurrencies on Binance in Nigeria
On the Binance website, go to [Trade] on the top left part of the homepage, then choose [Convert].
On the Binance app, go to Trades (the middle option on the bottom part of your screen), then choose [Convert] at the top left part of your screen (for the default version of the app) or on the pop-up that shows up (for Binance Lite).
Step 2: Select the Bitcoin you have and the token you want to buy. You can choose to enter the number of tokens you want to use (at the top part) or the number of tokens you want to gain (at the bottom part).
Step 3: Click Preview Conversion. You will then see the price quote for the transaction you're considering. You have 5 seconds to approve the quote shown to you and fulfill the deal. If the 5 seconds expire, click Refresh to get a new rate.
Step 4: Click Convert. The transaction takes less than a second, and you'll see the crypto you bought in your Spot Wallet.
How to Exchange Bitcoin to other Cryptocurrencies and Fiat Currency in Nigeria in Binance With No Fees 
This article will show you how to convert between cryptocurrencies and digital fiat currencies more quickly and easily — and with zero fees.
Step 1: On the Binance app home page, click "Convert".
If you can't find this on your home page, click "More" to access the full app service page. Once on this page, you can find "Convert" in the "Trade" section.
Step 2: You will be directed to the "Convert" page. You can convert your crypto using a market (instant) or limit order. Before you proceed, ensure that the crypto you want to convert is currently in your Spot wallet.
To convert from one cryptocurrency to another, select the correct cryptocurrency in the "From" and "To" sections respectively. You can also view the minimum and maximum quantity of each cryptocurrency you are allowed to convert.
Enter the quantity of cryptocurrency you want to convert in the "From" section and click "Preview Conversion".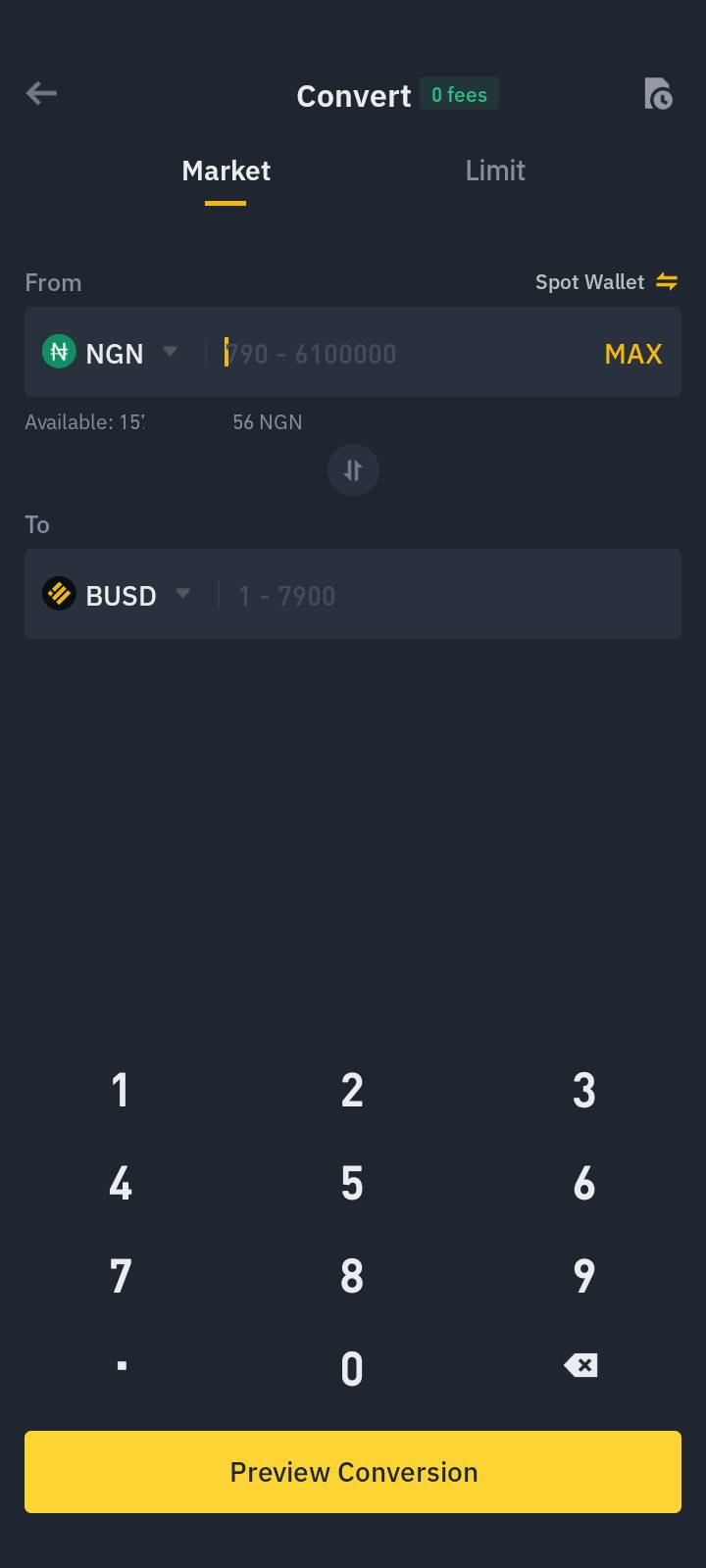 Step 3: Next, you will see a pop-up containing a summary of your transaction. If all the details are in order, click the "Convert" button before the countdown expires to confirm the conversion.
Step 4: You should be redirected to this page containing details about your transaction and confirm the conversion. You can go back to the home page by clicking "Back Home". You can also view your conversion history by clicking "View History".
You will be directed to the Convert section of the Transaction History page, where you can view the details of your previous conversions.
Once on this page, you can find "P2P" in the "Trade" section.
Using this method of converting cryptocurrencies on Binance, you can convert your NGN (or any digital fiat currency) after depositing to any cryptocurrency of your choice. You can also convert cryptocurrency back to your local digital fiat currency whenever you want to make a withdrawal — all with no fees.
Conclusion
Converting or exchanging your Bitcoin for other Cryptocurrencies or Fiat Currency in Nigeria is very simple especially if you use Binance and follow the steps we have listed in this article.
However, Binance is not the only trading option to exchange your bitcoin as they are lots of other wallets out there, but then, we recommend Binance because it is secure and safe.
Article Reference and Source